Participation Requirements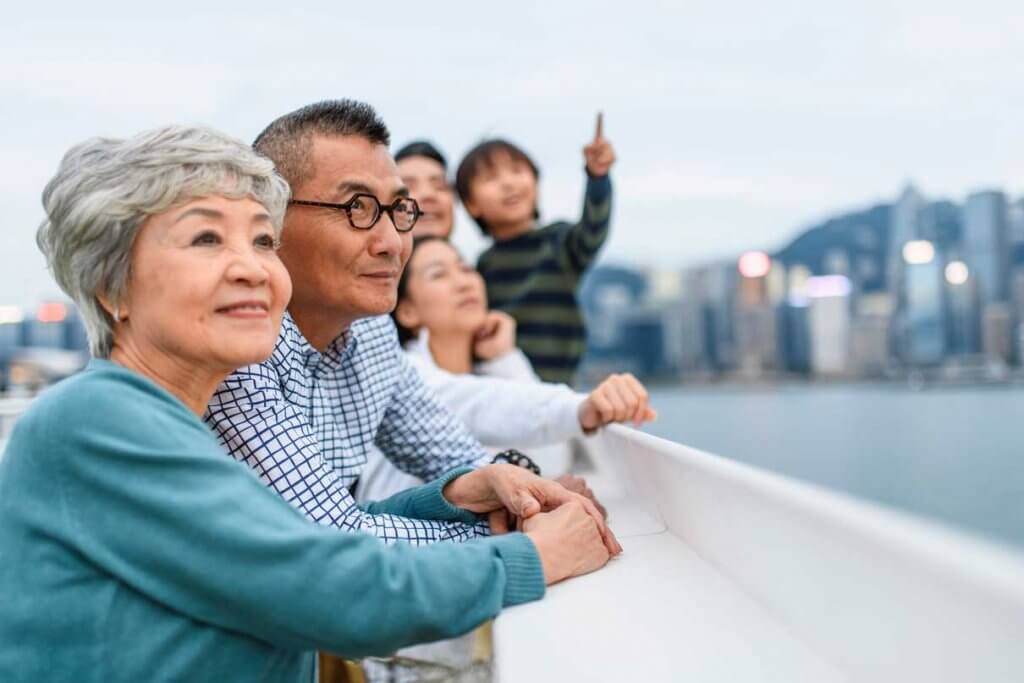 There are many reasons to join the study, including testing an investigational treatment that may lower chances for future memory loss due to Alzheimer's disease, and helping find solutions for future generations.
Our study is also the first of its kind to:
Enroll participants as young as 55 years old who are at risk of developing symptoms of Alzheimer's disease as they get older;
Use a blood test to rule out people not likely to be eligible based on amyloid PET imaging;
Target the earliest changes in the brain due to Alzheimer's disease by enrolling participants with intermediate levels of brain amyloid;

Use an approach that tailors dose levels of the investigational treatment to study participants' brain amyloid levels;

Test an investigational treatment that aims to lower brain amyloid levels in people with Alzheimer's dementia.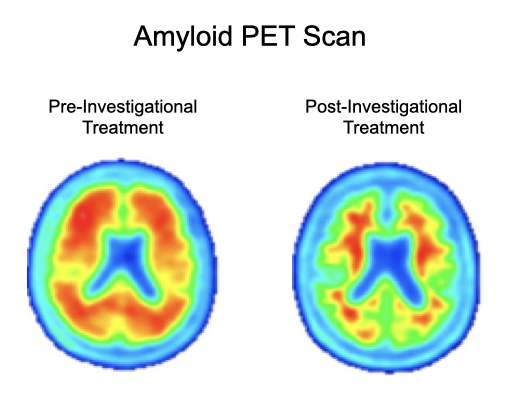 Amyloid PET imaging scans from a representative participant in the Phase 2 trial of BAN2401 (lecanemab)—the investigational treatment being tested in the AHEAD Study. Amyloid PET scans measure the levels of amyloid plaque in the brain. The image on the left is taken before the participant has started on the investigational treatment. The image on the right is taken after 18 months of investigational treatment with BAN2401 (lecanemab), indicating a reduction of amyloid plaque burden in the brain. (Data presented at AAIC 2019)
What Will I Do as a Study Participant?
Before enrolling, participants meet with researchers to talk about what happens in the study, including during PET scans, IV infusions, and tests of participants' memory and thinking abilities, as well as the possible side effects. After that talk, participants decide if they'd like to continue.
Agree to a four-year commitment in the study, involving in-person and telephone visits with study researchers every two to four weeks

Have a study partner, either a close relative or friend, who will participate in one study visit per year

Receive $50 per required visit they attend for their time
Each study visit includes a verbal assessment of:
Medications
General health
Some study visits will require:
Test of memory and thinking abilities

Test of emotional and psychological state

Test of how well participants carry out everyday activities

Blood tests (

learn more

about the blood test process and what results may mean)

BAN2401 (lecanemab) or placebo delivered by IV*
Electrocardiogram
MRI scan
Amyloid PET scan**
Tau PET scan**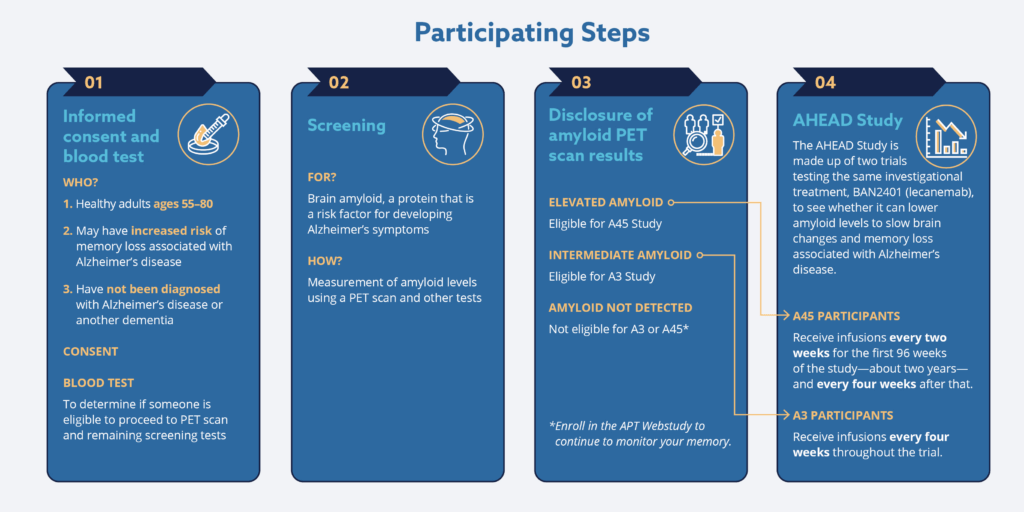 Note: Due to COVID-19, all in-person visits are conducted with special safety precautions to reduce person-to-person contact.
All participants are required to have a study partner
Are a trusted family member or friend that talks to or sees the participant at least every week

Know the participant's thinking skills and daily function

Play an important role in helping researchers track changes in the participant's memory or behavior that they may not see themselves

Receive $50 per required visit they attend for their time
What does a study partner do?
Goes to one participant visit per year by phone or in person over the four-year trial

Accompanies and supports the participant as they learn study results or complete study activities

Answers questions about the participant's daily activities and memory
We are looking for people ages 55-80 who do not yet have symptoms of Alzheimer's disease, but who are interested in participating in clinical trials aiming to help prevent memory problems in the future. You can answer a few short questions to learn if you may be eligible to participate in the AHEAD Study.
*Note: Frequency of infusions will vary for participants based on their initial amyloid levels. Participants with elevated amyloid levels will receive infusions every two weeks for the first 96 weeks of the study—about 20 months—and every four weeks after that. Participants with intermediate amyloid levels will receive infusions every four weeks throughout the trial.
**Note: At different points in the study, participants take a Positron Emission Tomography brain scan, also known as a PET scan, to identify amyloid and tau (another protein) in the brain. The PET scan captures pictures of participants' brains that let researchers see and track any changes that may occur.